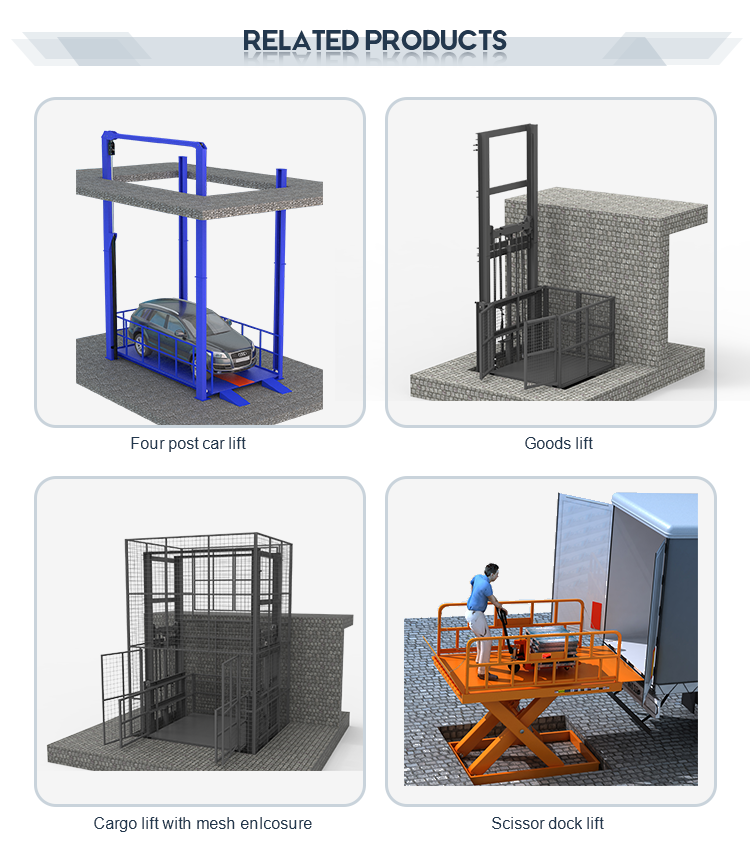 Applications:
For the customer who can only provide reduced space, we will design a very effective load transfer platform, the hydraulics provide a fall protection function, mutual locking at the top and under the floors, the operation buttons are available on each floor and platform, which makes the operation very easy. The product is strong, high capacity, stable lifting and easy maintenance, which makes it the most ideal and economical load transfer equipment between the floors that occupies the place of the elevator. In accordance with the client's work environment, we provide optional configurations, mainly used in chemical, high temperature, high pressure, power plants and nuclear industries that are strictly requested in explosive proof companies.



Functions

The maximum capacity of the 2-storey hydraulic lift / load elevator is 10t, the operator controls on different floors and platforms, the upper and lower mutual locking of the floors makes it quite safe. And you can get a very good height, the cylinders are on the sides, the operation is stable, makes no noise, is easy to maintain and has a long service life. There is a manual drop button in case of power failure, the emergency stop button is convenient and effective. The depth of the well is only 150-300 mm, if the well is not available, we will provide you with a ramp. Platform doors are also convenient and save space. It is very suitable for steel structure workshops of 2 to 5 floors, regardless of the interior or exterior. The power is from the famous company that is the joint venture of Germany and China. Our O-ring is imported from Japan, the NOK brand and other electrical parts can be selected by the customer.



Safety
The 2-story hydraulic load elevator / elevator has the same safe function as the traditional elevator and, at the same time, there are the following safe devices: Overflow valve: to avoid overpressure of the system.
Manual drop valve: when there is a power outage, which causes the platform to fall to a specific floor.
Explosion-proof valve: when the oil hose is broken, the valve cuts the oil circuit to prevent the platform from falling too fast.
Oil temperature protection: when the oil in the oil tank overheats, there will be a signal and you will stop using the lift, when the temperature drops, start over.